Manage your investment portfolio as you would a sizable company
Portfolio management can quickly become too complex to handle alone.
Managing family wealth is very much like managing a business; without the right people in key positions, operations may be inefficient and costly. A better approach is to have the support of specialists in each focus area and an efficient, continuous information system for evaluating them and their progress toward meeting the desired objectives. Lastly, it is important to be able to make timely, sound decisions.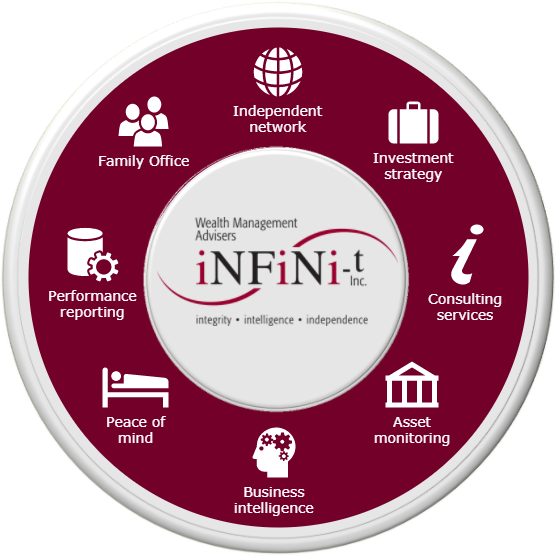 A tailored offer
iNFiNi-t Wealth Management Advisers Inc. is dedicated to providing fully independent advice to high-net-worth private clients and foundations with complex wealth management needs.
Our role is to serve as personal family financial advisers. Our services are designed to fit your needs, and include formulating investment policies, developing an asset mix, selecting managers, managing risk and continuously monitoring the performance of the entire investment portfolio, preparing performance reports, coordinating the work and meeting with stakeholders, and negotiating fees.
We give top priority to your peace of mind about how your wealth is being managed, and ensure that a team of experts is continuously working with you, in the best interests not only of yourself, but also of future generations in your family.
We are proud of the fact that we supervise over $2 billion is assets for clients with portfolios in excess of $10 million.
Our values
What do the three "i" represent in iNFiNi-t?
Integrity

Our firm has always maintained very high professional standards and employs scrupulously honest and highly dynamic individuals.


Furthermore, our firm's activities are governed by the Autorité des Marchés Financiers (AMF), and we comply with the codes of ethics of both the Chartered Financial Analyst (CFA) Institute and the Chartered Professional Accountant (CPA) Order.

Intelligence

We have extensive know-how in how to provide investment advisory services to our clients.


We will present you with uniquely qualified managers that have more than satisfied the criteria of our quantitative and qualitative selection process. In short, we are constantly looking for new ideas and solutions to secure and grow your wealth.


Independence

We try to steer clear of management platforms, due to supplier independence issues.


Our firm is a fully independent company with mandates from its clients to create business relationships with their managers and asset custodians. Moreover, iNFiNi-t guarantees that the firm and its employees are compensated solely from the client base and are therefore free of any affiliations.
---
Subscribe to our publications.